Cosmetique Totale is a premium specialist in skin improvement and laser therapy. With passion, knowledge and experience, the professional laser therapists perform the treatments. They know skin inside and out and are happy to work with you to achieve the best results. Using the latest and safest lasers, the experienced laser therapists are happy to help you treat:
Definitive hair removal
Acne / acne scars
Couperose
Pigmentation spots
Age spots
Prior to the first treatment, there is always a free intake interview so that the skin therapist can look at the skin and give personalized advice. Based on this, a treatment plan is set up.
Roadmap to personalized laser treatment
Let us take you through the flow that is the same with every laser treatment.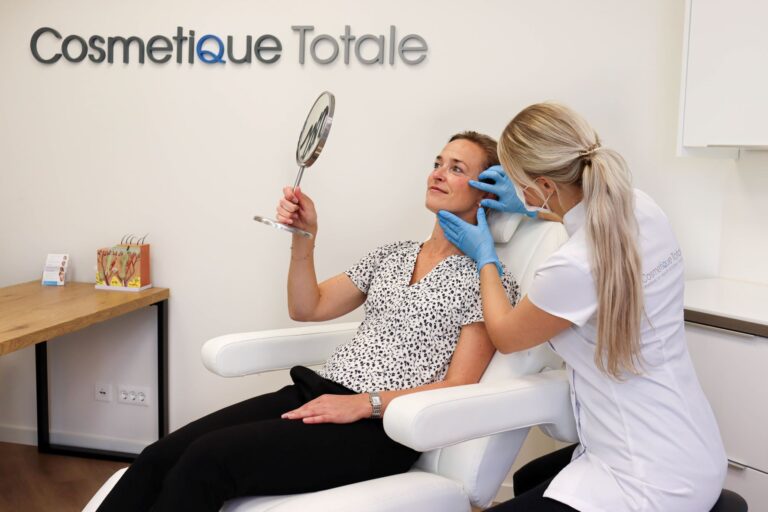 Intake interview
During a comprehensive intake interview, the laser therapist is going to explain to you the different laser treatments. Then you will fill out an intake form together and discuss what your expectations/wishes are. Then your skin is looked at and the therapist will give you personal skin advice. Then we will discuss with you which treatment best suits your needs. After the intake interview, it will be clear to you how they can address your skin problem.
Creating a treatment plan
After the intake interview, a treatment plan will be drawn up for you. The treatment always consists of a part for home, which you can do, and a part in the treatment room, which the therapist and the laser can do. The therapist will always advise you to have a facial treatment done by Annelies, your skin expert, in preparation for acne, rosacea or pigmentation treatment, with complementary products for home use both as preparation and after and between your laser treatments. It is explained how the treatment works, how much time should be between treatments and what the price is.
Personalized laser treatment
On average, the treatment takes 30 minutes, depending on the area being treated. The skin is cleansed with each treatment and hair is shaved during the laser hair removal treatment. A cooling contact gel is applied. During the treatment you feel very small pricks but is not painful. The therapist will also regularly ask how it feels for you, if you don't like something you can always tell her.
Aftercare and follow-up
After the treatment, the skin may feel a little warm but that disappears fairly quickly. After the treatment, you will be given some tips regarding your sun behavior, home products, not waxing and not pulling the hair (for laser hair removal). Do you have any particular questions? What can you expect after the treatment? Also, a follow-up treatment is immediately booked for you.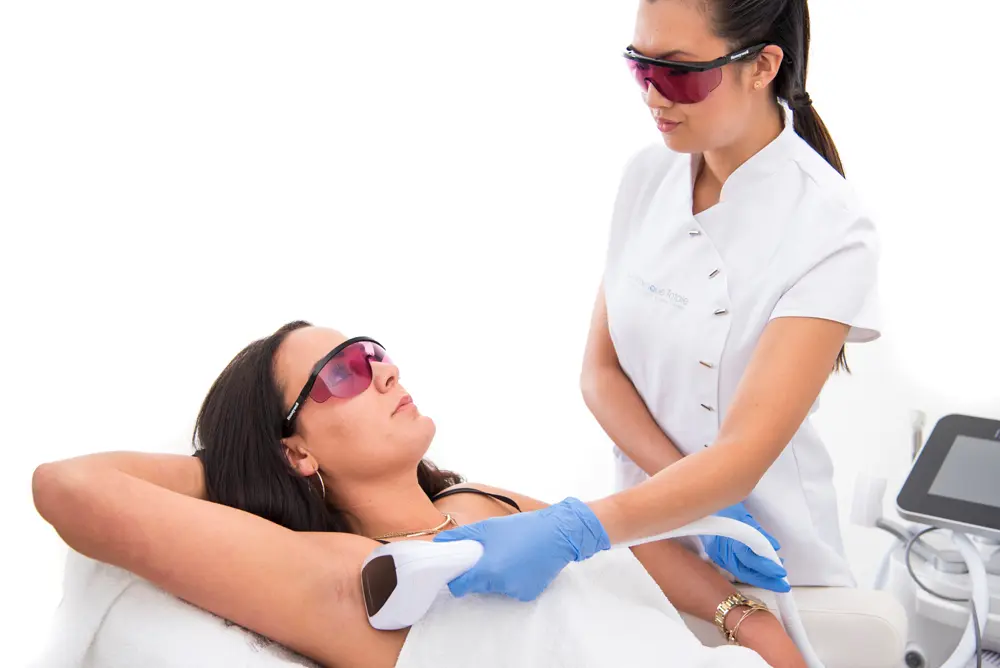 Permanent hair removal
Since the possibility of permanent hair removal, the days of red bumps, itching, and ingrown hairs from shaving and waxing are truly over!
With the help of laser therapy, the hair is destroyed at the hair root. As a result, the hair will immediately grow slower and eventually fall out. You'll notice the difference after just one laser treatment. On average, after 6 to 10 treatments, you'll have completely smooth and soft skin without hair. You'll never have to shave, wax, or pluck again. You will enjoy permanently smooth skin.
The best permanent method depends entirely on the hair and skin type. The skin therapists at Cosmetique Totale use the latest and best medical lasers to treat these different hair and skin types.
Couperose, rosacea, redness
Do you often have a red blush on your cheeks, or do you see red or purple broken blood vessels under your skin, for example, around your nose or on your cheeks? This indicates couperose. If this redness is accompanied by inflammation (acne), then it is a form of rosacea.
Couperose, rosacea, and redness can be very effectively treated by the laser therapist using medical lasers. During the laser treatment, broken blood vessels are destroyed, and the redness also disappears. Often, you can see very nice results after just one or two treatments. On average, you need 3 to 5 treatments for a significant improvement.
Removing Pigment Spots
Pigment Spots (Hyperpigmentation, Melasma, Sun-Induced Pigmentation) are common and are most noticeable on areas of the skin that are frequently exposed to the sun, such as the décolletage, face, and hands. Pigmentation can occur in both lighter and darker skin types. Even individuals who have taken good care of their skin can develop pigment spots, commonly known as age spots.
At Cosmetique Totale, we can professionally remove pigment spots. Our skin therapist examines the pigment spots and analyzes your skin to determine precisely which pigment treatment will provide the fastest and best results for you. Laser treatments can make pigment surprisingly disappear quickly. Often, you can achieve an even skin tone after just 2 to 5 treatments.
Why choose Cosmetique Totale?
PREPARE YOUR LEGS FOR SUMMER
Laser hair removal armpit at 20 euros
Always dreamed of silky smooth armpits without the hassle? Now is your chance! For a stunning 20 euros instead of 75 euros, you can enjoy laser hair removal for your armpits. If you were still hesitating, look no further – this is the time to try it out. Treat yourself to this extraordinary offer and get ready to say goodbye to unwanted hair.
Action valid until October 15, 2023
Price
Laser hair removal of the legs is already possible from 199 euros per treatment, here you receive a free armpits laser treatment with it!
| | | | |
| --- | --- | --- | --- |
| Area | Regular price | Action | Action Price |
| Lower legs excl. knee | €199 | Lower legs excl. knee + armpits | €274 €199 |
| Lower legs incl. knee | €249 | Lower legs incl. knee + armpits | €324 €249 |
| Upper legs | €245 | Upper legs + armpits | €320 €245 |
| Legs complete | €395 | Legs completely + armpits | €470 €395 |
Terms of action:
Promotion period: April 1 to June 30 (3 months).
Valid for single laser hair removal treatments: lower legs (including and excluding knee), upper legs, or entire legs.
Not valid on (current) packages and installment payments already started.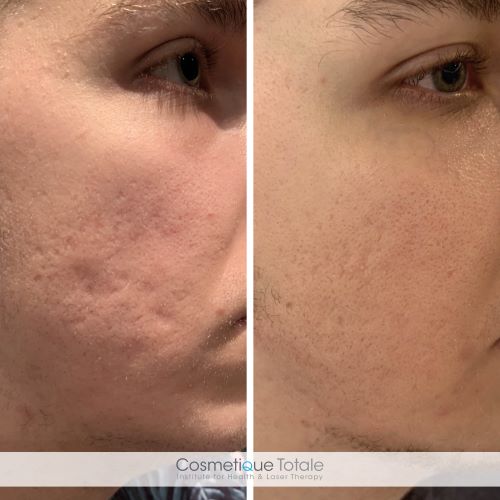 Frequently Asked Questions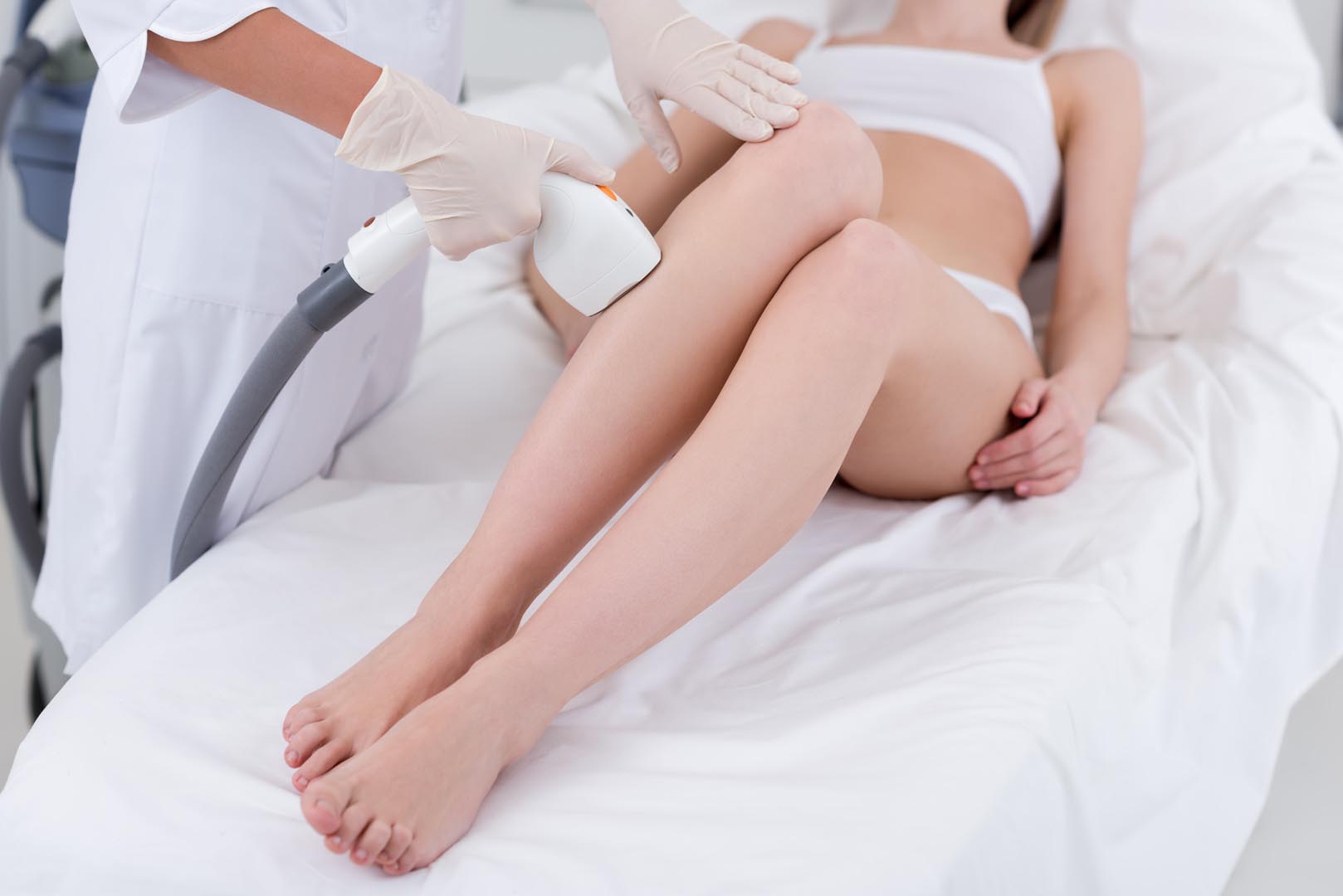 Laserontharing is volkomen veilig. Je kan het vergelijken met scheren, maar dan met minder irritatie en nog tal van andere voordelen. Net zoals bij scheren kan er roodheid, zwelling en warmte voorkomen, maar dan in mindere mate.