Let your senses discover the beneficial influences of the best massages that are the heritage of all kinds of ancestral traditions from around the world. Bali, India, the Middle East… Each of these sensory journeys takes you on a unique escape through time and space.
Indulge in intense scents, irresistible textures and the original protocols of Cinq Mondes. Letting go for a moment to go on a sensory adventure and relax, those are our massages.
All massages are available as in duo, allowing you and your partner to enjoy the same time together. You can also come on Saturdays and Sundays to enjoy a virtuous massage. Indulge in intoxicating scents and enchanting textures for a lasting calming effect.
All massage rooms are air-conditioned to ensure optimal massage temperature.
Traditional, relaxing Oriental massage
Based on Eastern traditions, we work your entire body with warmed argan oil with a subtle, pleasant fragrance. The slow deep movements bring you into a revealing state of pure well-being and give you a sense of bliss. Your skin is hydrated and silky smooth thanks to Huile Sompteuse d'orient. 1person 60 or 80euros 40 or 60min
Discover the benefits of this intensely relaxing hot oil massage. This treatment pays special attention to your back muscles and your shoulder blades to release tension and leave you feeling blissful and free afterwards. Perfect after a busy work week. 1person 45euros 20min
Invigorating Indian Ayurvedic massage
Enjoy the subtle scents of vanilla and cardamom during this invigorating hot oil massage inspired by India's millennia-old traditions. An alternation of energetic, warming rhythms will promote deep sleep, release all tension and relax your muscles. 1person 80euros 60min
A massage is a moment of rest for your body and mind. Relaxing in a pleasant atmosphere is key, as is relieving tense or aching muscles. After a massage ,the body and mind are back in balance.
Immerse yourself in a moment of real peace, where you can escape from all the concerns in your life. That's what a body massage is for anyone who needs a moment of complete relaxation. Not only from the muscles, but also from all the stress in your daily life.
At Spa Différent, we combine our knowledge of the body, products and ingredients and our experience to create a unique personal experience every time. And this, of course, in a comfortable atmosphere, where everyone immediately feels at home. May we welcome you soon?
Touch helps reduce stress levels and makes calm. It results in more mental relaxation and being happy. It provides comfort and security, reduces pain and strengthens the immune system.
Tradition of warmth also plays an important role of the day, both spiritually and physically. It improves metabolism, relaxes muscles, dilates blood vessels, reduces pain and calms the mind.
Would you also like to experience all the benefits of touch and warmth? Then a combination of the spa and massage or body treatment is a top combination to enjoy this total experience. This experience will long stay with you as a moment in which you truly came to rest.
Many of our wellness massages and experiences are available in duo. So you can unwind with your partner or a friend. Because with 2 is often more fun than alone.
Be sure to check out our wellness rituals and treatment rituals if you want to combine a massage with the facilities of wellness.
An Ayurvedic massage is different from "ordinary" massages, it means knowledge of life and long life. It teaches how to rebalance the energies of a physical, mental and spiritual aspect for good health. It is a tonic muscle massage with alternating fast and slow movements that release muscle tension to restore energy and vitality. Much more attention is paid to the spiritual and emotional.
This ritual is based on thousands of years of ancient Indian traditions. And you feel this too when you experience it. In addition to relaxing your muscles, the movements also promote natural breathing. It stimulates the body's metabolism and vital functions while addressing fatigue both physically and mentally.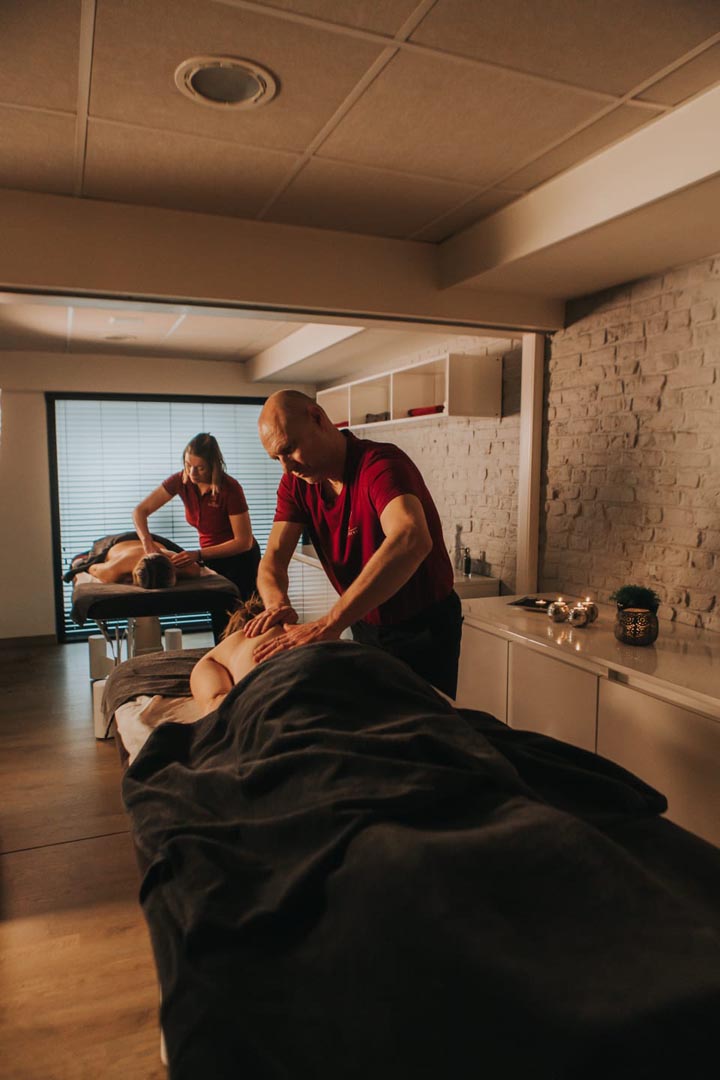 Say no to stress and burnout
Massage means attention to yourself, me-time, self-care. A massage can be so wonderful in times of high stress, burnout, feeling empty or tired. During a massage, you are completely out of your head and into your body for a while, a deeper relaxation for body and mind. You produce the happiness hormones endorphins and dopamine. The counterparts of the stress hormone cortisol. A massage is so relaxing which will reduce stress symptoms, it has been scientifically proven several times. You will find your feel mentally recharged, the Relieve the stress, you have more vitality, it improves your mood, you get more self-confidence and reduces your negative feelings.
It not only creates a more inner peace but also relaxes your body and muscles. Do you often sit in front of your computer at work? Or does your body feel a little stiff? Then a massage can give you a lot of relief. It unloads your muscles, improves your blood circulation, your waste products are drained, your blood pressure is healthy, you sleep better and you have hydrated skin.
Massages in duo are a fun experience you can experience with your partner or a friend. You lie in the same room while being massaged by our experienced specialists for an experience that will stay with you.
If you prefer to come alone, a real me-time moment, you certainly can. Almost all body treatments, the Japanese bath and all massages can be done for you alone.
All our massages are available as a duo. Do you prefer to come alone? That, of course, is also possible. In addition, our massages are available on Saturdays and Sundays. This obviously helps in scheduling a virtuous massage in duo.
Frequently Asked Questions
At our place, a couples massage costs the same per person as for an individual. The difference with a couples massage is that you can enjoy your moment of relaxation together with your partner at the same time, in the same room.