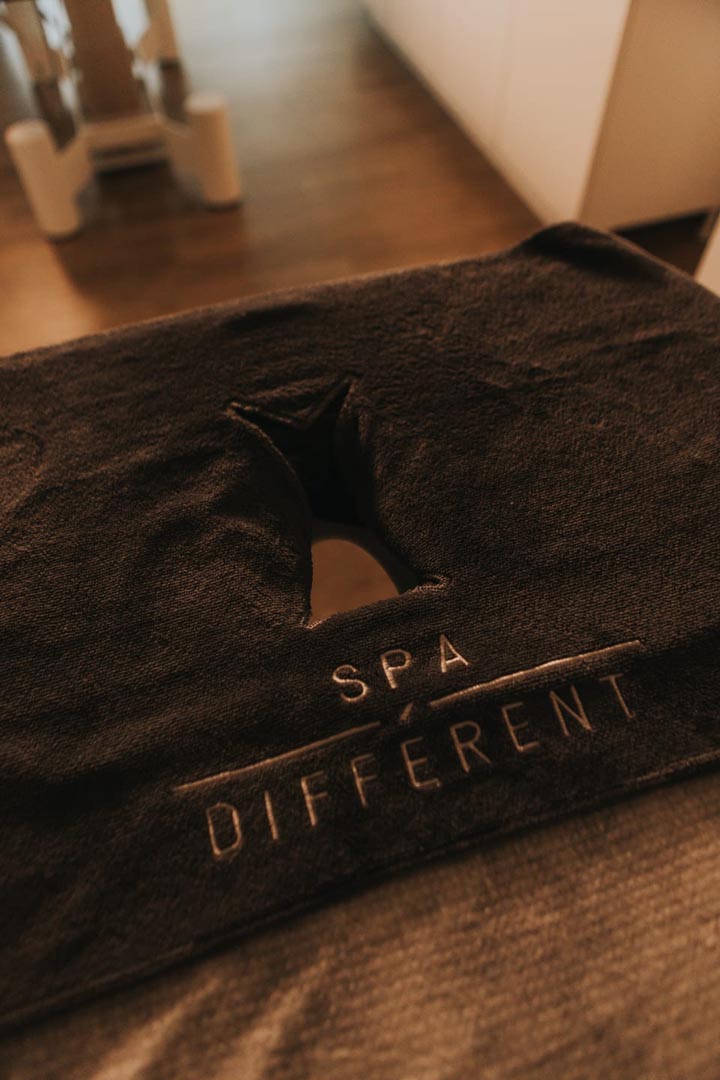 A private sauna or private wellness experience at Spa Différent is pure relaxation and enjoyment. With our personal approach and professional guidance, we ensure that each visit is a unique experience. We have the following facilities:
Jacuzzi 37°
Turkish steam bath 45°
Finnish sauna 90°
Showers
Cold plunge bath
Relaxation area with fireplace
In short, our private sauna is a place where you can relax stylishly and, above all, completely.
| | 2 hours​ | 3 hours​ |
| --- | --- | --- |
| 2 persons | € 120 | € 160 |
| 3 persons | € 160 | € 200 |
You can also book the private sauna on Saturdays and Sundays. The relaxation area of the private spa is air-conditioned so that the temperature is as pleasant as possible.
What is included in our private sauna?
A sauna is a wooden cabin with an electric heater with lava stones that are heated. These hot lava stones give the sauna a temperature between 85 and 95 degrees.
Everyone has heard about a soaking session. In our private sauna, you do this yourself by pouring water with essential oil based on eucalyptus and mint over the hot sauna stones. The evaporation of water raises the humidity, increasing the wind chill.
Increased humidity allows skin pores to open better. This causes your body to start sweating, which better removes impurities from your body. In other words, it deeply cleanses your skin. Therefore, using a sauna is considered healthy.
Our private sauna is with color therapy. This is a method that has been around for centuries and is seen as a way to come all the way to yourself. That means bringing your body, soul and mind into harmony . The different colors each have a different effect on your body, allowing you to find the perfect balance within yourself.
The Turkish steam bath or hamman is used to prepare your skin and stimulate balance within yourself. It is going to open the pores and prepare the skin for the heat of the sauna. So it is an ideal starter to start your wellness session.
The hamman is heated to 45° where steam enriched with herbs such as eucalytpus is blown into the cabin.
The combination of moisture and heat has a lot of positive influences on your health. You calm down mentally while the skin is cleansed deep into the pores. Your skin becomes supple and soft. It cleanses and opens the airways. And it stimulates blood flow, allowing tired and aching muscles to recover.
In short, the Turkish bath pampers body and mind.